Track-etched polycarbonate membranes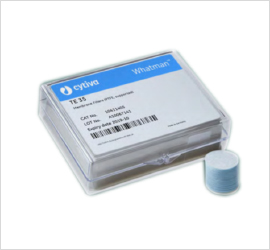 Track-etched polycarbonate membranes
We manufacture Whatman™ track-etched membranes using proprietary technology to produce a precision membrane filter with closely controlled pore size distribution.
These membranes include Cyclopore™ polycarbonate, Nuclepore™ polycarbonate, chemotaxis membranes, black polycarbonate, and polycarbonate membranes for cell culture.
Cyclopore™ polycarbonate membranes
Membranes are produced from a pure polymeric film and give exceptional chemical cleanliness. They are free of contaminants, have low tare weight, minimum water adsorption, and very low levels of nonspecific protein binding. The polycarbonate membranes are hydrophilic and are available in a choice of diameters and pore sizes.
Black Cyclopore™ membranes are excellent for epifluorescence and other microscopy applications requiring a contrasting background. The polycarbonate membrane is used to filter the sample and is then used directly for analysis. The dark membrane gives lower background fluorescence and improves the sensitivity of the test.
Features and benefits
Low affinity for stains provides higher optical contrast, making visibility under a microscope easy.
True surface capture provides easy examination of samples and short analysis times.
Totally transparent membranes are available.
For the analysis of cell migration toward a chemical stimulus
Thin and uniform; cylindrical pores facilitate rapid cell migration
Nuclepore™ polycarbonate membranes
Nuclepore™ track-etched polycarbonate membranes are manufactured from high-quality polycarbonate film and have sharply defined pore sizes, high flow rates, and excellent chemical and thermal resistance. The membranes have a smooth flat surface and exhibit very low levels of extractables.
Nuclepore™ black dyed polycarbonate membranes are high performance membranes suited for applications using epifluorescence microscopy. Black membranes greatly reduce background fluorescence, which results in improved microorganism and particulate visibility.
Features and benefits
Low protein binding and low extractables, minimizing sample contamination
High chemical resistance and good thermal stability for a wide range of samples
Low, consistent ash and tare weights
Smooth flat surface for good visibility of particles
| Cat. Nos | Description | MRP INR |
| --- | --- | --- |
| 10417701 | CYL PC 13MM 0.4uM 100/PK | 11910 |
| 7060-2501 | CYL PC 25MM 0.1uM 100/PK | 8530 |
| 10417606 | CYL PC 25MM 0.2uM 100/PK | 13950 |
| 7063-2502 | CYL PC BL 25MM 0.2uM 100/PK | 11640 |
| 10417706 | CYL PC 25MM 0.4uM 100/PK | 11910 |
| 7063-2504 | CYL PC BL 25MM 0.4uM 100/PK | 10600 |
| 7060-2511 | CYL PC 25MM 2.0uM 100/PK | 9680 |
| 7060-2513 | CYL PC 25MM 5.0uM 100/PK | 10500 |
| 7062-2513 | CYL PC CLR 25MM 5.0uM 100/PK | 12340 |
| 7060-2514 | CYL PC 25MM 8.0uM 100/PK | 9840 |
| 10418552 | CYL PC 25MM 12.0uM 100/PK | 12240 |
| 7060-4701 | CYL PC 47MM 0.1uM 100/PK | 17260 |
| 10417612 | CYL PC 47MM 0.2uM 100/PK | 22860 |
| 7063-4702 | CYL PC BL 47MM 0.2uM 100/PK | 19030 |
| 10417712 | CYL PC 47MM 0.4uM 100/PK | 22860 |
| 7060-4710 | CYL PC 47MM 1.0uM 100/PK | 16930 |
| 7091-4710 | CYL PC CLEAR 47MM 1.0uM 100/PK | 19360 |
| 7060-4712 | CYL PC 47MM 3.0uM 100/PK | 16600 |
| 7060-4713 | CYL PC 47MM 5.0uM 100/PK | 16600 |
| 7060-4714 | CYL PC 47MM 8.0uM 100/PK | 17990 |
| 10418450 | CYL PC 47MM 10.0uM 100/PK | 21080 |
| 10418550 | CYL PC 47MM 12.0uM 100/PK | 23420 |