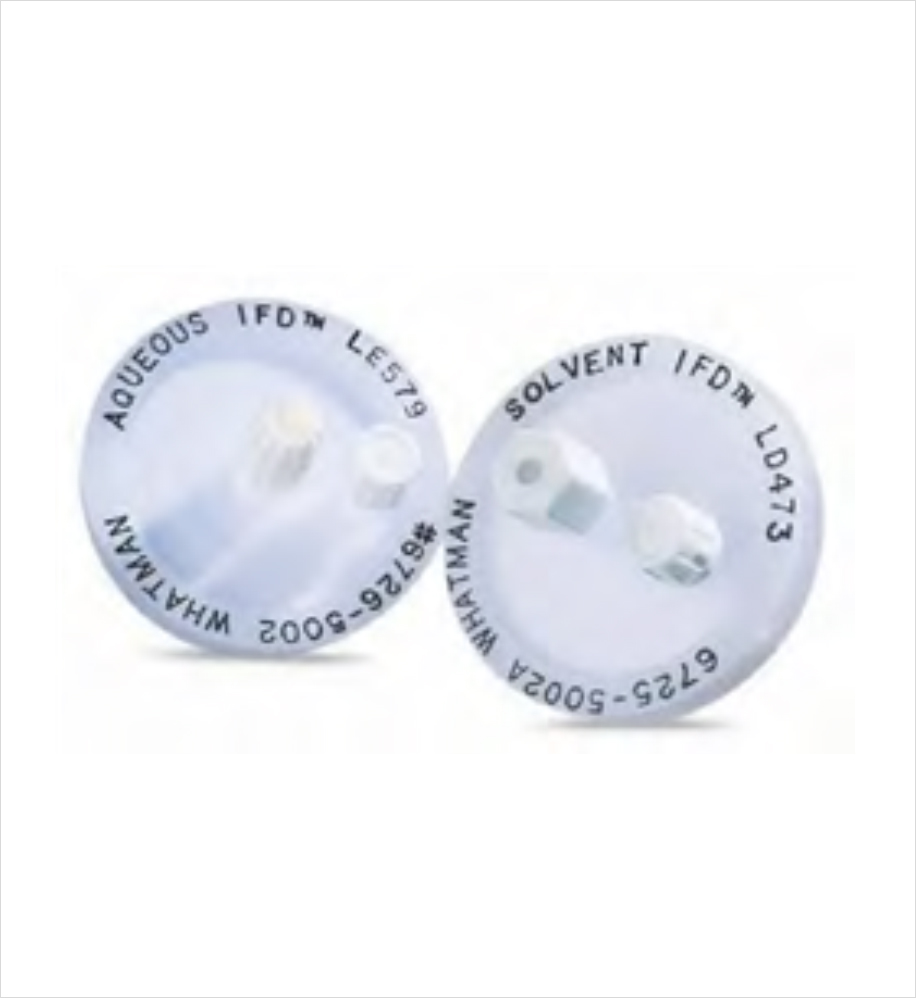 WhatmanTM inline filters feature high-purity polypropylene housings to maintain sample purity and are available with a choice of filtration media to suit a range of aqueous and organic samples.
WhatmanTM Inline Filter/Degassers (IFD) connect directly into an HPLC line to simultaneously filter and degas the mobile phase as it is being used. The Aqueous IFD provides pure filtration of aqueous based HPLC mobile phases while the Solvent IFD is used with organically based HPLC mobile phases. Aqueous IFD is designed to work with mobile phases containing at least 20% aqueous component.
The Aqueous IFD has a 0.2 μm hydrophilic nylon membrane for use with aqueous-based mobile phases. Solvent IFD has a 0.2 μm high-flow polypropylene membrane for mobile phases containing organic solvents. Both devices have a polypropylene housing, the circumference of which is sealed by a security ring, fittings to accommodate 1 ⁄ 16" to 1 ⁄ 8" tubing and an air vent on the inlet with Luer lock cap to enable priming. 
The inline filters work on the principle of "bubble point"—the point of pressure at which gases will pass through a wet membrane. If pressure is maintained below the bubble point, the gas will not pass through the membrane and is trapped by the particular filter device.
| Cat. Nos | Description | MRP INR |
| --- | --- | --- |
| 6725-5002 | SOLVENT IFD 0.2 PP 10/PK W/O | 16030 |
| 6725-5002A | SOLVENT IFD 0.2 PP 10/PK WO/O | 16030 |
| 6726-5002 | AQUEOUS IFD 0.2 NYL 10/PK W/O | 16030 |
| 6726-5002A | AQUEOUS IFD 0.2 NYL 10/PK WO/O | 16030 |